["StickyPaper v1.2.0"]
i recently came across this Japanese (but English language) tool, which is a virtual note board/sticky notes thing.
it lets you use picture notes, image notes and even real time notes with RSS access to read email,local weather,news headlines etc.. the full system is scriptable, sadly documentation is only available in Japanese language.
heres a few screenshots to get you an idea:
everything: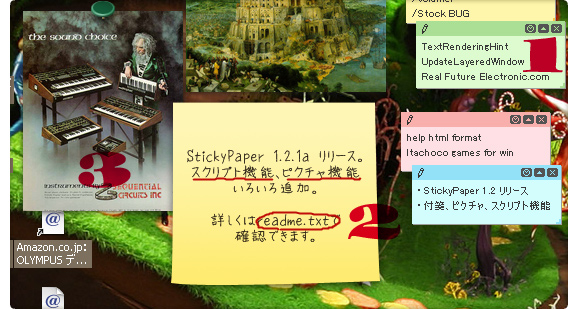 using it with rss (yahoo japan):
you get the idea..
the whole scriptable system let users exchange their homemade scripts here:
https://www.pentacom.jp/pentacom/cgi/stslib/index.html
the main download for the program (and alot of other great programs) is here:
https://www.pentacom.jp/pentacom/products.html
i tried running it on a portable drive and it worked flawless, i noticed no changes to the registry and settings are saved to an .ini
notes and real time notes seem to be saved in the program folder in separate sub folders.