Zabkat's (
https://www.zabkat.com/
)
editor2
has been mentioned a few times here at TPFC forums but has no single topic really fit to post news and updates. Well, that ends now.
The closest thing I have found to a dedicated homepage is this 2010 blog post containing some portability workaround (that, luckily, has seen big improvement since then;
editor2
is now natively portable):
Editor² begun its life as an embedded thread in 2xExplorer [...] Although it won't substitute your main editor (say for writing your source code), it is nevertheless a very compact quick'n'dirty editor/viewer thingme to be appreciated by programmers and lay users alike.
In 'editor2.txt' file included in xplorer2 download packages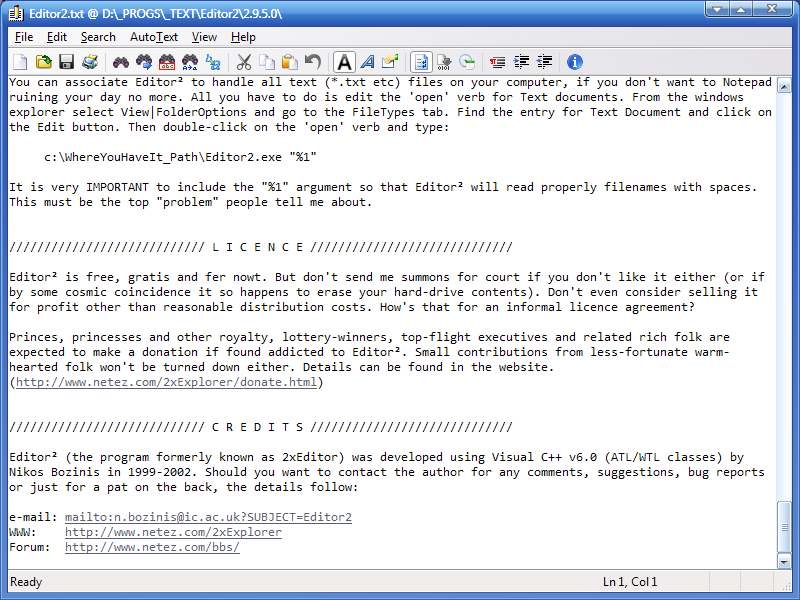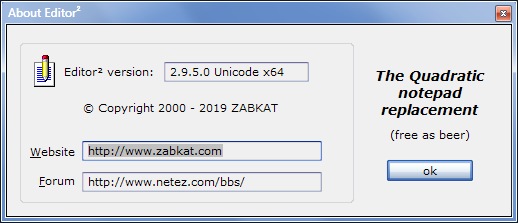 Let me quote myself on the peculiar arrangement of
editor2
distribution:
Midas wrote:

↑

Although

Editor2

is freeware, it doesn't have a separate download location, and has to be extracted from the

Xplorer2

trial package -- downloadable at

http://www.zabkat.com

. (BTW, the corresponding files are:

ed2skin.png

,

Editor2.txt

,

editor2_64.exe

,

editor2_64.exe.manifest

,

editor2_UC.exe

,

editor2_UC.exe.manifest

.)
Editor2
latest version is currently v2.9.5.0 (no specific changelog) -- it's included with any
xplorer2
v4.2.0.1 release.
Please note that if looking for the 64-bit version, you'll have to grab it from the corresponding non-free
Pro
or
Ultimate
download packages.
Editor2
is made portable by placing an empty '
ed2.ini
' file in its folder before first run.
Related and relevant topics you should browse if interested in
editor2
: