Posts: 564
Joined: Wed Jun 26, 2013 2:09 am
Hear, hear...

---
Posts: 564
Joined: Wed Jun 26, 2013 2:09 am
Latest Forkle release
v0.65.0.597
(current built 2019-04-06)
Somewhat "revamped" (?) start page: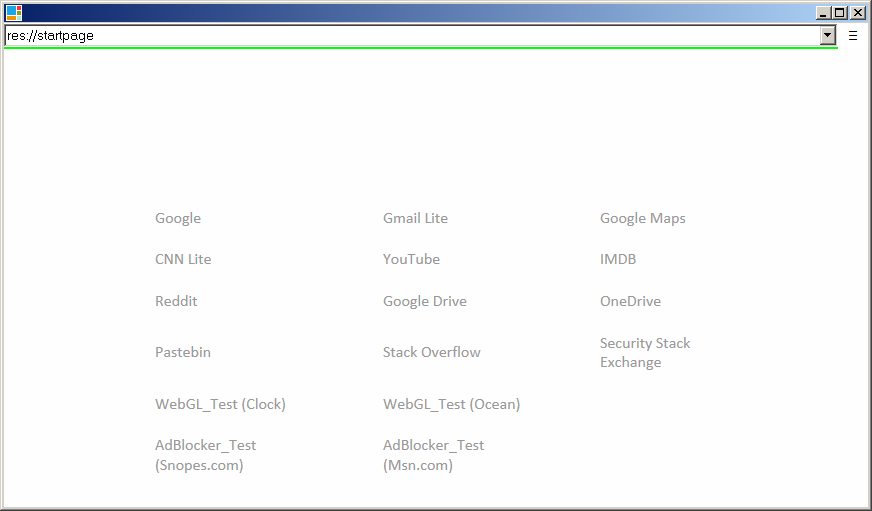 BTW,
if you ever were so slightly annoyed by the preliminary check preventing Forkle execution
unless all the latest and greatest Win security patches (upon patches...
) were dutifully installed,
...fret no more:
Forkle recent releases obligingly relax the restriction, by admitting this ad-hoc entry into
misc.ini
:
Hack so far undocumented, but dutiffully vouched for by the developer, after only gentle prodding...
---
---
interesting

i would want tabs myself but the idea that you have to whitelist any domains ahead of time is interesting if it could be done quickly and easily

also needs forward, back and reload buttons

is this based on anything like chrome or firefox engine?
---
---
Posts: 564
Joined: Wed Jun 26, 2013 2:09 am
"Ask, and it will be given to You; Seek and Your Needs will be fulfilled" (Matthew 7:7)...
Code: Select all
Alt + LeftArrow		Back
Alt + RightArrow	Forward
ESC			Stop
F5			Refresh
Forkle Keyboard Shortcuts summary
---
FYI, dilligent old
_philippe
has already shown how to disable the system update check a couple of posts back (
viewtopic.php?p=93010#p93010
).
And diversity always welcome by me, no matter the quadrant it spawns from -- especially when one brand is reaching almost absolute dominance...
Chrome is turning into the new Internet Explorer 6
Google sabotaged Firefox to boost Chrome
Is Chrome on its Way to be ONLY Browser out there?
For those who might be missing tabs, heed the dev tip another few posts back:
svenfaw wrote:

↑

Also,

Forkle

has no tabs, but there's a feature that you might not be aware of (as it's still undocumented): hold shift while clicking a link to open it in a new window.
Let's just assume that
Forkle
is more geared toward the keyboard warriors out there.
---
Agree completely. While I advocate for Mozilla whenever I can, Firefox being the ONLY alternative to a Chrome-based toolset is a serious problem. I'm expecting that Apple won't do anything with Safari so I expect there's plenty of room for a lightweight, low-power usage, and privacy-friendly browser offering.
---
Posts: 564
Joined: Wed Jun 26, 2013 2:09 am
Forkle
current version
0.67.0.692
released 17-JUN-2019
Home Page and "Quick Start" keyboard shortcuts summary slightly amended
Commendably sustained development work going on relentlessly...
...yet missing any kind of changelog, deplorably...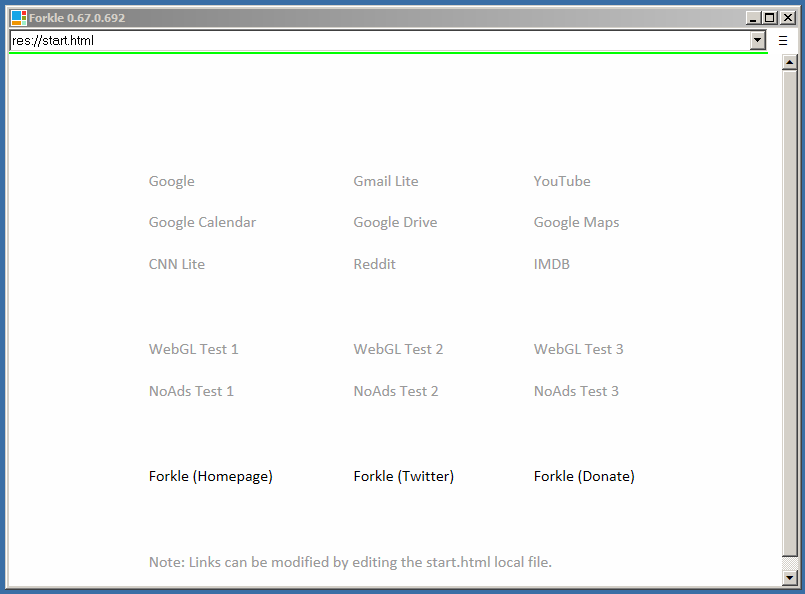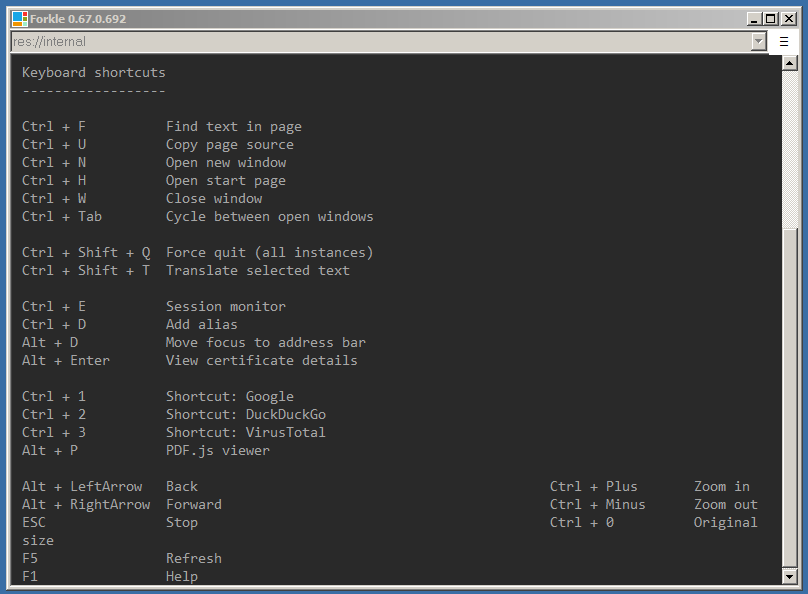 ---