I have been meaning to post about
Fortitude HTTP
(
www.networkdls.com/Software/View/Fortitude_HTTP
) for a while, but since I found it not natively portable -- contrary to NetworkDLS two other products already here,
IP Traffic Spy
(
viewtopic.php?t=7442
) and
DiskMark
(
viewtopic.php?t=7443
) -- it kept slipping from my ToDo.
The snag with
Fortitude HTTP
is that it saves its settings in the registry at '
HKLM\Software\NetworkDLS\Fortitude HTTP
' -- nothing that a
yaP
launcher won't be able to solve but the management program refuses to even run unless those keys are present.
Other than that,
Fortitude HTTP
looks like a pretty decent offering for the lightweight server category.
Fortitude HTTP is a web server for Windows which was created to give users a free, easy-to-use and open source alternative to commercial Windows web servers. Fortitude HTTP features hundreds of in-depth behind the scenes security features and a growing number of user defined security features. Supports: Multiple sites, port sharing, virtual roots, CGI, scripting engines, custom filters, HTTP compression & caching, HTTP 1.1 resume, an easy to use front end, a fully configurable XML back-end and much more.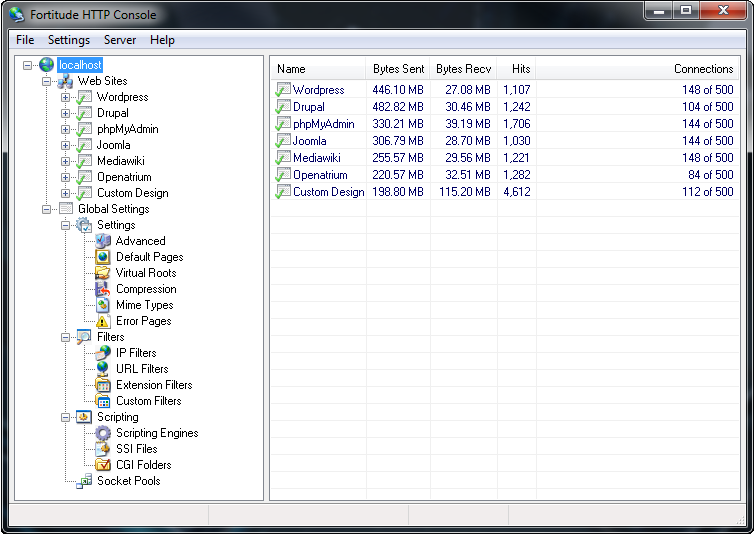 Fortitude HTTP
latest version (currently v1.0.4.1), released 2018-01-26, can be downloaded from
www.networkdls.com /Software/Release/View/Fortitude_HTTP/1041
.