After the recent discussion on careware (
viewtopic.php?p=90602#p90602
and following), I was reminded of
MusicZen
(
https://www.musiczen.org/
): it's a DotNET (v4 required) MP3 file organizer which has both a free and paid version, with up to 10% of the license revenue being donated to
Kiva.org
, which is micro-credit initiative to help developing countries.
I haven't really tested
MusicZen
, but it does claim portability. You'll have provide an email address to download, but disposable ones work alright. It comes in an EXE package that will extract without warning to it's current location, so be wary.
https://www.musiczen.org/reference-guide/

wrote:

MusicZen

will not tag your music files; rather, it will read the existing tags in your mp3 files and use this information to create the directories and the name of your files. If

MusicZen

does not find this information, it will place the files in an "Unknown" folder.
https://www.musiczen.org/faq/

wrote:

MusicZen

will not help you tag your files, instead it reads the tags in your files and it uses this information to organize your files based on the order you specify in the preference tab.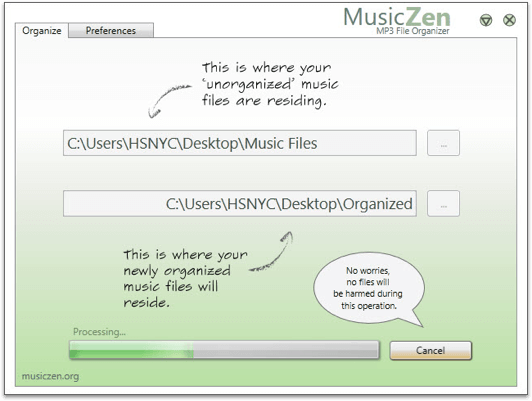 The last
MusicZen
version is v1.4.4, released 2017-04-03 (changelog at
https://www.musiczen.org/change-log/
).