The recent post by
jcd925ec
of Visual Family Tree Maker seemed to engender a reasonable amount of interest.
I had a look at the link that
Baas
gave (in answer to
webfork
) and saw that the review found a lot of problems.
Not uncommon with genealogical programs so I thought I'd provide an alternative.
ScionPC
is a comprehensive Genealogical Management System.
It is stated to be portable and implicitly stealth. I'm sure a PFC regular will confirm or deny!
The Home Site provides very detailed information about the program.
Essentially data is first entered on a Personal Details Page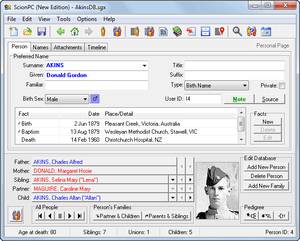 It is then put into context on the Family Details Page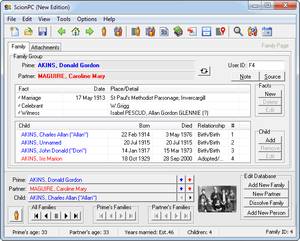 Well worth a look on ...
https://homepages.paradise.net.nz/scionpc/features.html