[Mod note: this is the primary Office Image Extraction Wizard program thread. View database entry]
----
Office Image Extraction Wizard 4.1
Office Image Extraction Wizard allows you to easily extract images from many "office type" documents and ebook formats, and save these as normal picture files on your hard drive. More than 45 common file formats are supported! Images are extracted in their original format, with no image processing or re-compression being performed, so no quality is lost during the extraction. It does not require MS Office to work.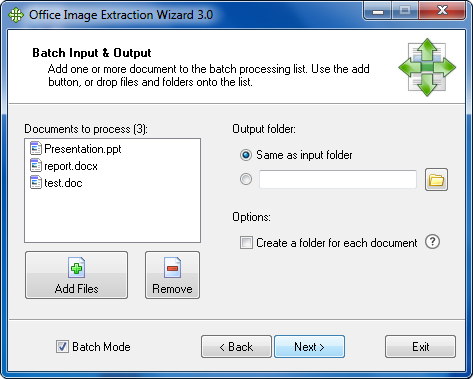 Requires VB6 runtime files
Download link:
www.rlvision.com /script/download.asp?file=OfficeImageExtractionWizard_Portable.zip
Note: This was previously shareware, but is now free, open source.
[Full changelog at
https://www.rlvision.com/officewiz/about.php
]