---
Thanks. Excellent changelog.
I have updated the entry.
---
The developer of PSPad is doing something I think a serious developer should refrain from doing- releasing different versions with the same version number. I had PSPad 4.6.0 Build 2700 released on 2015.10.02 and downloaded from the official web-site. Something urged me to re-download the same version from the official web-site and compare it with mine, and it turned out that the official web-site hosted a different, newer than mine version:
PSPad 4.6.0 Build 2700 from 2015.10.02:
- Installer:
File Size: 5245888 Byte(s) (5.00 MB)
Modified Date: 2015-10-02 18:24
Version: 4.6.0.2700
MD5: d3bbd62fb96bee74f6ff427e9e0ba553
SHA1: 35e2505eabd064c452a567a196837121f09e07b4
SHA256: 948878753035f56747a548568155e8b0d5aa733d76cf0b6cdd23262879cdd0e4
CRC32: 4c5fc102
VirusTotal
- Archive:
File Size: 5772885 Byte(s) (5.51 MB)
Modified Date: 2015-10-02 18:24
MD5: 715421a369866d495dc2dbfa36ec7220
SHA1: d717094d72b189c40931a5c276ac2b28ccfb9471
SHA256: b04faa70a2472e746159eec29c9acc7345c6d9d51c5dd0ccdfb6aecc8ede1c49
CRC32: 18863113
VirusTotal
..
PSPad 4.6.0 Build 2700 from 2015.10.12:
- Installer:
File Size: 5201960 Byte(s) (4.96 MB)
Modified Date: 2015-10-12 14:13
Version: 4.6.0.2700
MD5: 44488db39e74aaf66f932e087cc956ba
SHA1: 67ef22dd294aaa94f68cdb4010f3050a266c1453
SHA256: 53c0ae2c71e13767b161a1e4b5d9cda104c48650ee928bab0eda5c4b6a1ba33f
CRC32: ff751508
VirusTotal
- Archive:
File Size: 5771754 Byte(s) (5.50 MB)
Modified Date: 2015-10-12 14:13
MD5: 9a3e0a16f4e9cda6174052adfee3dd03
SHA1: 960b2a32ce675c60a46d59f83a69bfbcc9508f83
SHA256: d857c6a10ee8e6b37b77a79cf94eda1a0f08e904a3d403484f7a9042e3218f48
CRC32: 12f4874d
VirusTotal
..
In my opinion this is wrong, terribly wrong.
---
---
@TP109
It seems that this practice is more common that I would have expected- today I discovered the same about
BCTextEncoder
:
BCTextEncoder 1.02.1 from 2015.12.02:
File Size: 1321256 Byte(s) (1.26 MB)
Modified Date: 2015-12-02 12:44
Version: 3.0.6.6
MD5: 493a7d72599e768b2189a78cf73307dd
SHA1: 175a0f7216b4d5800790707a5cba2d8b04c3157a
SHA256: 9b192df31d75419b3efffe5af06c7c3c53e129fd5cbdfaecedeb79511115078c
CRC32: 51b668c5
VirusTotal
..
BCTextEncoder 1.02.1 from 2015.12.14:
File Size: 1321760 Byte(s) (1.26 MB)
Modified Date: 2015-12-14 07:05
Version: 3.0.6.6
MD5: 16a3e85a5dd38ca30ff86f85473a0f9b
SHA1: 34853a8cf46bb3df019ee05e5f519ecda0f10bf9
SHA256: 735119b1501b7be7d0bc3e0e3a010d0da5710b1f5f8d74af0c28b8799b746069
CRC32: a8918bfd
VirusTotal
---
Can someone spell out for me the pitfalls of this no-notice update behavior? Certainly this is ill-advised and makes things more difficult (tracking down the best download if a service goes offline, double the analysis by AV organizations, etc.), but I understand the tendency to not release a new version when you just fix one tiny thing.

It does seem strange and is yet another reason pulling me towards the greater transparency of open source projects.
---
I've used psPad for years and usually downloaded the beta versions as they came out. Those I'd give the developer some leeway on.

A final release version to the public should be locked in stone. However, I don't know who all touches the source code and what their vetting process is before release so this may be a one-time innocent oversight on their part.

But, if it was done knowingly, even a minor change should have been held and included in the next release or publicized as a last minute bug-fix or feature.

It raises too many questions about what else was changed and why.

As an analogy, working on legal contracts every single change is redlined. Even a minor spelling correction has to be noted. It's a matter of trust and if those rules aren't followed it can bring a whole document (or in this case application) into question. It also causes way too much work and effort by others that goes beyond the hours the developer puts in. If the application is used in a corporate environment then IT security (as well as business and home users) would have a right to be concerned.

I love the program and have alot of respect for the developer. I just hope this is a one-off situration that's not repeated.
---
5.0.4 dev build was just released:
https://forum.pspad.com/read.php?6,73811
Changes to 5.0.4 (509)

News:
Favorite panel / Tools - added option Save all files before tool starts
Status bar was moved to the bottom of main window from the bottom of individual windows. The reason is reading devices support for visually impaired people.

Fixes:
Tool panel - button size of the first toolbar
---
Already up to v5.0.4 (511):
https://forum.pspad.com/list.php?6
(although the official changelog is at
https://www.pspad.com/en/whatsnew.htm
, it doesn't provide minor version details).
BTW, here are
PSPad
essentials, mostly absent from the present formerly "
Update
" topic.
PSPad: text editor for developers for Microsoft Windows systems, the universal (freeware) text editor, useful for people who: work with plain text, the editor has a wealth of formatting functions, including a spell checker; create web pages, as a web authoring editor, PSPad contains many unique tools that save your time; want to use a good IDE for their compiler, PSPad catches and parses compiler output, integrates external help files, compares versions and much more. There is no complex installation process, PSPad is ready to work immediately without requiring customization.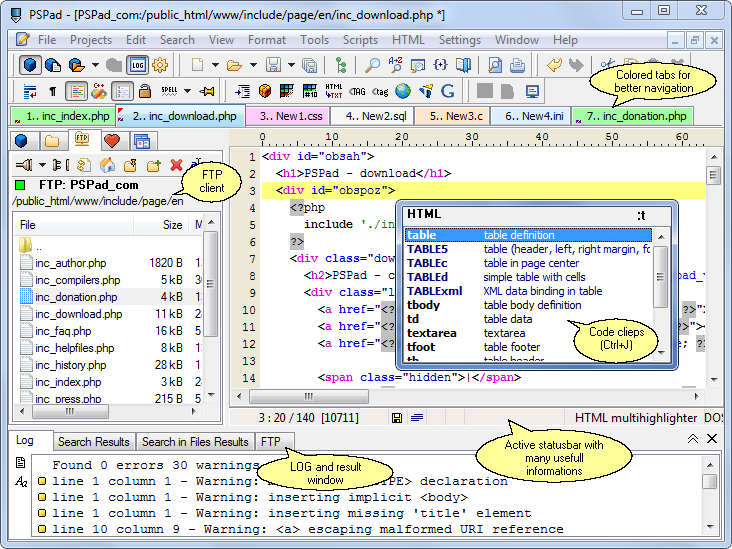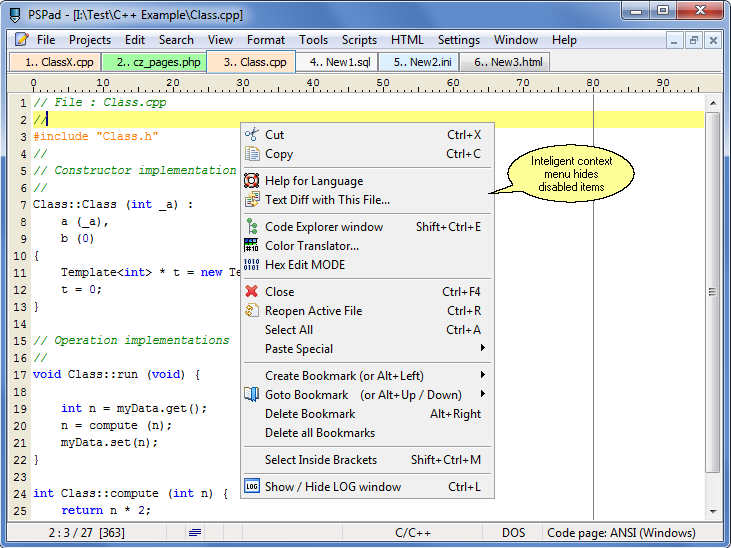 PSPad
latest stable release is v5.0.3 (377); both can be downloaded from
https://www.pspad.com/en/download.php
.
---
---