It seems the download links are no longer valid.
---
GitHub repository was deleted
Only old versions on
SourceForge
---
Good catch, thanks. For the time being I'll push the downloads to SF.net
billon

wrote:

↑

Mon Jun 29, 2020 11:57 am

GitHub repository was deleted

Only old versions on

SourceForge
It was amazing news to see Matteo pick up the project again after a long hiatus so I hope this is just a temporary hiccup. I just started testing the beta. The program is still mentioned on his Github homepage:
https://github.com/salvadorbs?tab=overv ... 2020-03-31
---
Posts: 68
Joined: Sun Feb 26, 2006 11:35 am
Sorry guys. I must disable the github repo for some time (maybe after summer it will return public, for now it is private repo). I'm just uploaded asuite 2.0.0 files in sourceforge page, so you can download asuite 2.0.0 from it.
https://sourceforge.net/projects/asuite ... ite/2.0.0/
---
Thanks for the update -- glad it wasn't anything serious. Very good to have [what I think of as a] real launcher program back in development.
---
Thanks! Great to see a great launcher program is back in developement!
---
@
El Salvador
: minor cosmetic suggestion, please update the "
Options|Stats
" dialog to reflect the font style of the remainder of
ASuite
-- as it stands, it looks jagged and blurry in my Windows 7 x64, as can be seen in the following screenshot.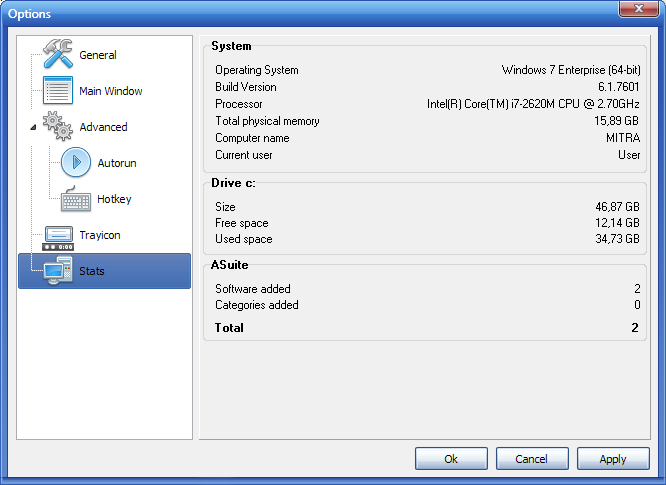 BTW, after examining the executable with
Resource Hacker
, I noticed that section retained "
MS Sans Serif
" as the '
Font.Name
' value while (most) of the rest of the program shows either "
Tahoma
" or "
MS Shell Dlg 2
".
---