---
Quick Hash
at version
2.6.9.2
- the x32 and x64 versions are packed in a single archive.
---
QuickHash
at version
2.8.0
.
QuickHash
has a new home, links:
Website
-
http://quickhash-gui.org/
Download Page
-
http://quickhash-gui.org/downloads/
Gallery
-
http://quickhash-gui.org/screenshots/
About
-
http://quickhash-gui.org/about-quickhash-gui/
SourceForge
-
https://sourceforge.net/projects/quickhash/
GitHub
-
https://github.com/tedsmith/quickhash
Softpedia
-
http://www.softpedia.com/get/Security/E ... Hash.shtml
AfterDawn
-
http://www.afterdawn.com/software/deskt ... sh-gui.cfm
AlternativeTo
-
https://alternativeto.net/software/quick-hash-gui/
QuickHash
version
2.8.0
screen: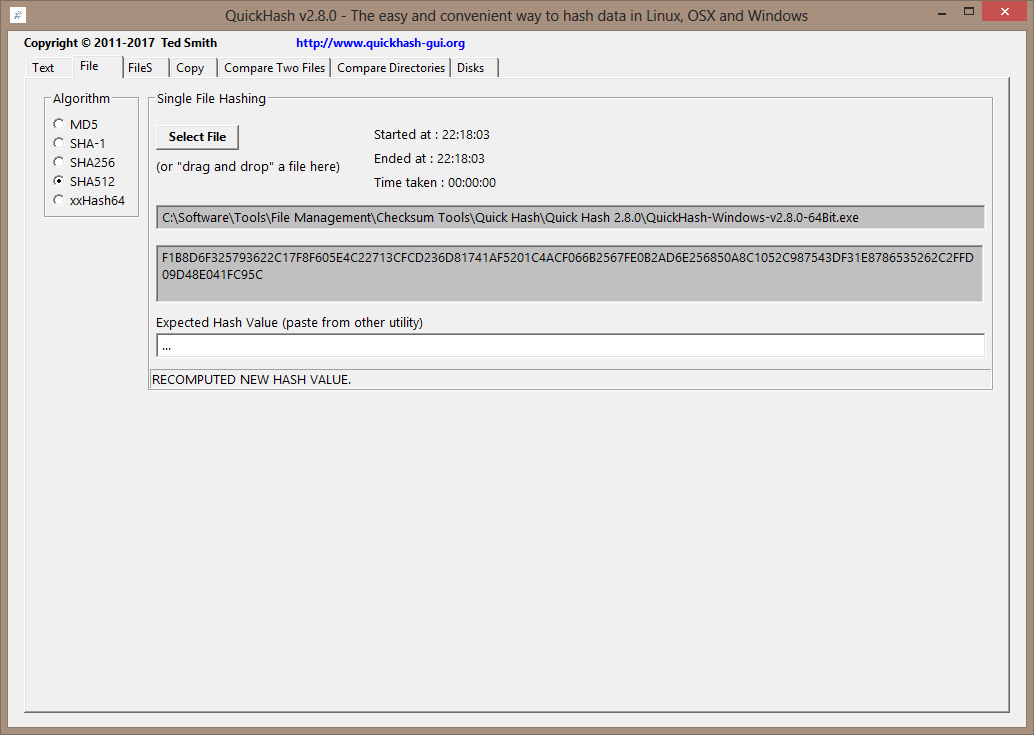 Settings are saved in
XML
file inside program folder.
---
Since version 2.8.0
Quick Hash
is renamed to
QuickHash
. Now
QuickHash
is at version
2.8.1
.
Added a "Donate Now" label to the main interface, to try and encourage users to make small donations that can, in turn, help with the hosting costs of the website at AWS.
Screen: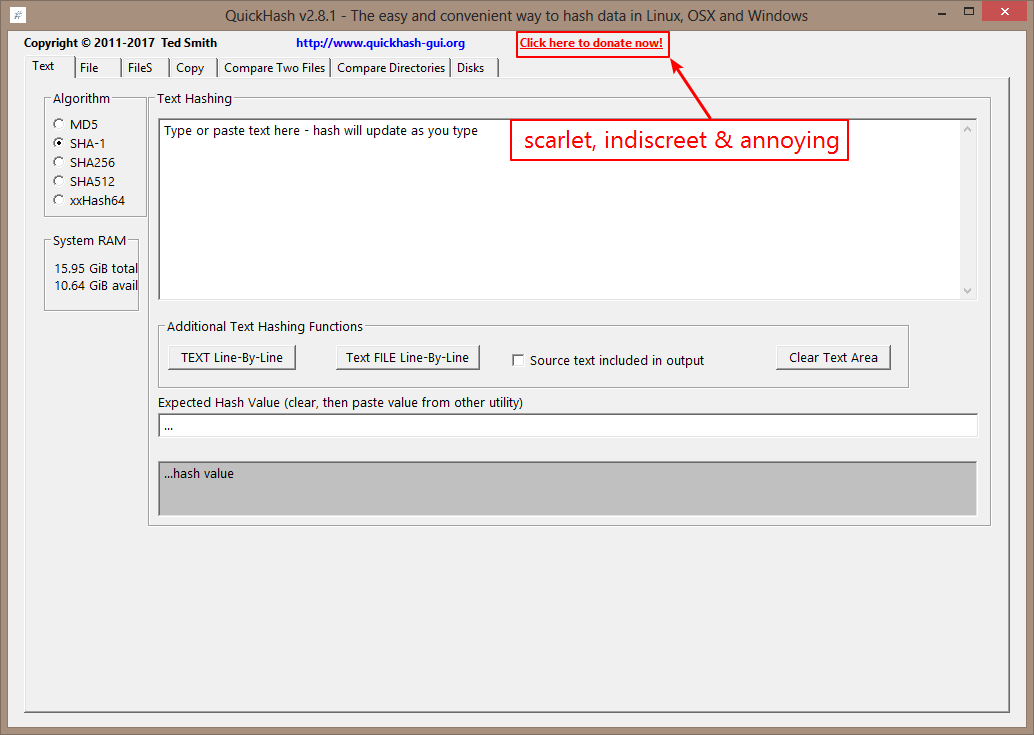 I do not like glary donation buttons & links plastered upon programs' main interface so this new donation link didn't encourage me to donate but to dump the program. I suppose that the developer is not a GUI specialist and it is not easy for him to create "About"/"Help" menu with website and donation links. I might not be that demanding of the GUI if after restart the program was able to remember the last used hashing algorithm or if it had an option to specify the preferred one but this is not the case so upon restart I have to click time and again in every tab to select the algorithm I need, for me this is irksome and unhandy.
---
Last edited by
Midas
on Wed Jun 20, 2018 5:54 am, edited 1 time in total.
Reason:
Corrected a previous erroneous statement.
---
Posts: 659
Joined: Wed Feb 10, 2010 4:44 pm
Location: New York, NY
Contact:
According to the site the non-signed EXEs are free. Only the digitally signed EXEs are paid software (likely to help pay for the ~$100 per year cert).
---
Is there anything incorrect in my previous statement?
---
Posts: 659
Joined: Wed Feb 10, 2010 4:44 pm
Location: New York, NY
Contact:
Yes. Scroll down the page and the exact same version is available for free. It's just not digitally signed. The second section is "Free Non-Code Signed Downloads" and has both the Mac and Windows 3.0.2 installers, the same ones at the top that are £1.99, available for free. Along with Debian and Linux (pre-compiled) packages. So, you can get 3.0.2 signed or not. Same app same version. You just have the option, as a user, to pay for a digitally signed version of the app if you want to.
---
Oh, I see now. You are right. As the unsigned v3.0.2 didn't show prominently in the download list below (you have to sort by reverse update date to have it shown at the top), I had not seen it...
Why not state it straightly, then? Your second post does a much better job explaining this, IMHO.
After further testing, impressive functionality, extensive documentation, native portability, but... fugly UI.
---
---
New version out: 3.3.1:
The developer actually went into some detail with the changelog, which I don't think I've ever seen that kind of narrative background before outside of some PhotoDemon releases:
https://www.quickhash-gui.org/v3-3-1-is-out-now/
I did catch a bug: In the
Copy
tab,
Save results (as CSV)
doesn't seem to function. The workaround is that you can click
Clipboard
on the output window (below) and then paste into a spreadsheet program.
With CRC selected, it supports renaming the file with the CRC value:
I was a little disappointed to see there's still no "verify" function so you can check existing files against a hash list. To me that's a major reason to use hash software: to find out if media storing your data has been modified (or corrupted).
---