Automatic and simple software for fast audio processing
https://arthelion.com/index.php/en/windows-en/lastar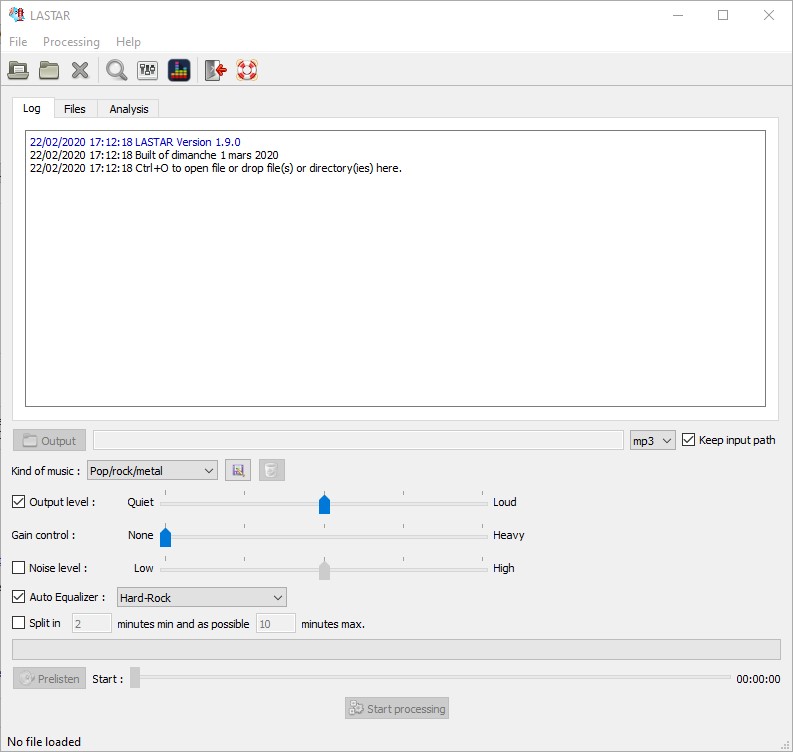 Settings: LASTAR.ini in Application Data/Arthelion
---
@moderator
LASTAR is now portable. Setting saved in application folder. Version tested 1.2.9. Please move to the submission forum. Thanks.
LASTAR is a batch (non-interactive) audio processor allowing, in a few clics, loudness adjustement and file splitting of a batch of audio recordings, using audio transparent maximizer. Features:

- WAV or mp3 input
- WAV or 192 kb/s mp3 output
- Support for id3 tags V1 & V2
- Designed to process large files (several Go)
- Automatic file analysis to set up the best parameters
- RMS Amplifier with fast lookahead limiter to prevent clipping
- Left/right channel automated balancing
- Transparent and fast 3 bands processing (using FIR implemented by multi-threaded FFT convolution)
- Automated amplifier gain adjustement and noise estimation for file splitting
- Smooth automatic gain control (AGC) to compress dynamic without "pumping" effect
- Output noise gate
It is freeware (gpl licence), runs on Windows XP 32-bit and better (works fine on Win 7 64-bit).
Recent changes:
V 1.2.9
- Added : adjustable noise gate on output
---------------------------------------------------------------------
V 1.2.8
- Ability to add user settings
Download portable version @
http://sourceforge.net/projects/lastar/files/
---
v1.3.0 available:
· Added: 3 bands semi-parametric equalizer
· Added: pre-listening function, with real-time parameters adjustment
· Correction: issue in compression mode, which was leading to audible distortion when combined with multiband mode.
· Correction: Noise gate release is now null
· Updated and more detailed user manual
· Access to PDF help from menu
---
LASTAR is at V1.3.1 :
Added : integer 8 to real 64 bits support in Wav output. The bit depth of output is now the same as the input for Wav files.
---
---
Got to test this out a bit and came up with some notes that might interest someone:

* Splits music into audio segments, which can be great for making long recordings easier to navigate by creating chapters. The splitter works on silence (and can be modified for more or less noise sensitivity to split your tracks).

* Supports WAV, MP3, FLAC, and OGG audio inputs

* Wish I understood better what this is supposed to do. It re-encodes the file so this isn't one of those lossless audio normalizers. There's a lot of advanced audio settings that seem to require some strong understanding of audio tech. Fortunately the included help PDF file gives some greater detail. Will dig through that and come back to this if I get a chance.
---
So a new version came out a few months ago and was looking to retest, but the latest version requires MS Visual Studio Redist, which I was unable to find a working link/download for so ... maybe someone else will want to mess with this.
Here's an old screenshot for the last version of the program that still works on my machine:
X-LASTAR
http://www.winpenpack.com/en/download.php?view.1370
---
Update: glad to see this is still in development
Changelog

LASTAR RELEASE NOTES
---------------------------------------------------------------------
V1.9.1 (06/2020)
Fix :
- Custom autoeq settings were not saved properly

---------------------------------------------------------------------
V1.9.0 (03/2020)

Improvements :
- Auto equalizer can learn new profiles from input audio files
- Graphical analysis display, showing spectrum and segments
- Command line (batch) processing
- Default ID tags (including cover image) can now be different for each preset
- Quality of cover image can be adjusted
- Analysis pass are redone only if necessary
- Minor GUI improvements

Fixes :
- Minor bug fixes
- Internal software architecture improvements for better maintainability
---------------------------------------------------------------------
V1.8.4.1 (01/2020)
- Italian translation updated (thanks to Roberto)
---------------------------------------------------------------------
V1.8.4 (01/2020)
- Weighting can now be (de)activated in advanced parameters
- Mastering with Auto Eq is done in 3 pass (RMS stats are recomputed applying
the Auto Eq setting)
- Auto Eq applied corrections are now displayed in the log window
---------------------------------------------------------------------
V1.8.3 (11/2019)
- New italian translation (thanks to Roberto for his help !)
- Translation loader reworked
- Use of Qt 5.13
---------------------------------------------------------------------
V1.8.2 (04/2019)
- Fixed non ASCII characters handling in tags. Better tags handling in
FLAC, OGG, WAV files thanks to taglib usage.
---------------------------------------------------------------------
V1.8.1 (04/2019)
- Fixed setup & portable distribution (missing style files)
---------------------------------------------------------------------
https://sourceforge.net/projects/lastar/files/
https://www.softpedia.com/get/PORTABLE- ... able.shtml
---
---