That's very odd. I've contacted Andrew to see if something went wrong.

Good eye.
---
Thanks. Even if it ends up being a temporary error, duplicating information as a precautionary measure isn't wasted effort. I must have overlooked the original post, so I'm actually noticing this information for the first time.
---
Here we go again... it seems the update check in
SeaMonkey Portable
doesn't work, the following official release info from the
SeaMonkey
project page notwithstanding.
As I'm used to casually check for FF updates via the corresponding menu option, I was kinda stuck with v2.46 for a very long time. On the brighter side, most customizations I made to my previous version are still working in the latest one, with the following caveat applicable to '
Classic Firefox Theme for SeaMonkey
':
You have to look at his answer to reviews to notice this and the alternate URL for the download (should you wish to do so)...
---
During the whole Meltdown craziness, this is the wrong time for an update functionality to break.
---
Anyone can tell me what's the name of (or how to to disable) those toggle strips so characteristic of
SeaMonkey
? I have been trying to recall that for days to no avail...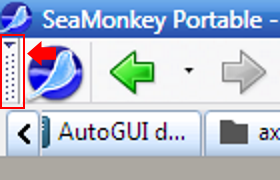 At one time I had those disabled -- as you can see by the screenshot last posted -- but now I can't seem to do it or find the recipe I followed previously and the OCD is killing me...
Midas wrote:

↑

Thu Mar 17, 2016 11:56 am

An even simpler (albeit completely counter-intuitive) route is available. If while going to be "

Mozilla Add-ons

" webpage you get a message like the one displayed below, you can still go ahead and click the "

Download Anyway

" link and follow suit to install it -- the worst that can happen is you will get a non-working extension, which you can easily remove via

Seamonkey

's '

Add-ons Manager

' interface.
And apparently, this isn't true anymore -- I don't see any such option when I visit
https://addons.mozilla.org/
, only the ugly green button below...

You can solve that with a hack by the author of the online addon conversion utility --
http://addonconverter.fotokraina.com/
. Install this
SeaMonkey
specific addon:
addons.mozilla.org/en-US/seamonkey/addon/amo-browsing-for-seamonkey/
...
Last edited by
Midas
on Sun May 06, 2018 2:08 am, edited 2 times in total.
---
---
Works! Thanks mate, you're a lifesaver.
---
---