Clementine website:
http://www.clementine-player.org/
X-Clementine website:
http://www.winpenpack.com/en/download.php?view.1346
Clementine

is a multiplatform music player. It is inspired by Amarok 1.4, focusing on a fast and easy-to-use interface for searching and playing your music.

About & Features

Search and play your local music library.
Listen to internet radio from Spotify, Grooveshark, Last.fm, SomaFM, Magnatune, Jamendo, SKY.fm, Digitally Imported, JAZZRADIO.com, Soundcloud, and Icecast.
Search and play songs you've uploaded to Google Drive.
Create smart playlists and dynamic playlists.
Tabbed playlists, import and export M3U, XSPF, PLS and ASX.
CUE sheet support.
Play audio CDs.
Visualisations from projectM.
Lyrics and artist biographies and photos.
Transcode music into MP3, Ogg Vorbis, Ogg Speex, FLAC or AAC.
Edit tags on MP3 and OGG files, organise your music.
Fetch missing tags from MusicBrainz.
Discover and download Podcasts.
Download missing album cover art from Last.fm and Amazon.
Cross-platform - works on Windows, Mac OS X and Linux.
Native desktop notifications on Linux (libnotify) and Mac OS X (Growl).
Remote control using a Wii Remote, MPRIS or the command-line.
Copy music to your iPod, iPhone, MTP or mass-storage USB player.
Queue manager.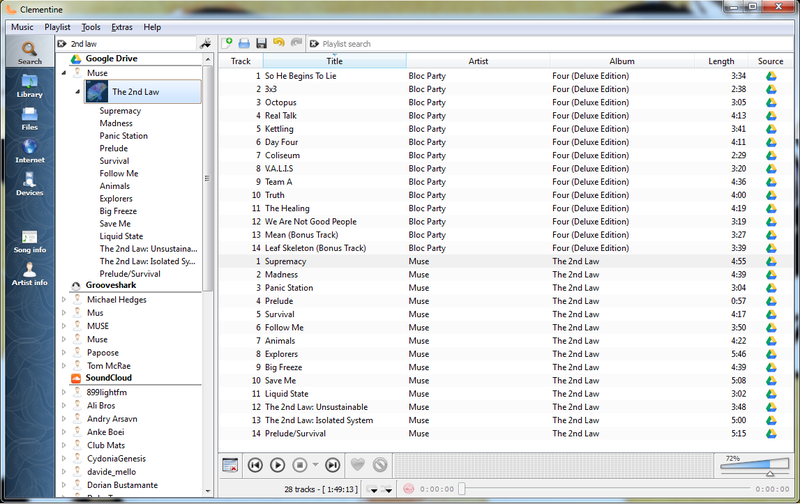 Download:
http://www.winpenpack.com/en/request.php?1346
License: GPL v3
Whereas the portable version of
Amarok
is barely usable at this time (moreover, the 2.x series is a little bloated for my taste), Clementine is a very good option for those who want to test a feature-rich player of that style.