[
Mod note: the present is the official forum topic for
USB Disk Ejector
;
https://www.portablefreeware.com/index.php?id=1406
]
USB Disk Ejector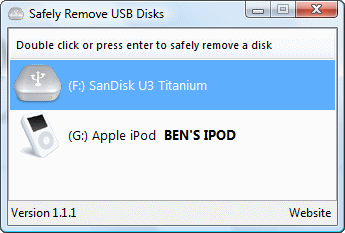 What is USB Disk Ejector?:
A program that allows you to quickly remove USB devices in Windows XP. Its essentially a replacement for the 'safely remove hardware' feature, but is quicker and simpler than drilling down through the safely remove hardware dialog.
Additional Features:
Mobile Mode: This allows for portability; you can carry the program on a USB device and then use it to remove that device from whatever computer you are using. For example - you can run the program from a USB pen drive, enable mobile mode and then eject that pen drive. Click the 'run in mobile mode' checkbox to restart the program in mobile mode.
IPod Eyecandy: If you have an IPod connected via USB, then it will have an IPod icon instead of the usual disk icon in the program.
Minimize to Tray: If you minimize the program, it will minimize to an icon in the system tray and wont show in the taskbar until restored.
Command Line Arguments: You can start the program with two different command line options, both can be used at the same time.
/MOBILE - starts the program in mobile mode.
/SILENT - stops the balloon tip from appearing when the program is minimized.
License: Freeware
Download:
http://quick.mixnmojo.com/downloads?dow ... tor1.0.zip
Website:
http://quick.mixnmojo.com/software#usbdiskeject