[
Mod note: the present is the official forum topic for
Personal Backup
;
https://www.portablefreeware.com/?id=3014
]
Personal Backup 5.0.6.1
Personal-Backup is a program to save personal data to any destination folder. This folder may be located on a local fixed or removable drive, on a windows network server or on a FTP server. [...]

Restore of single files and from Zip files (single or folder separated) [...]
Wizard to create new backup tasks
Unlimited number of configurable backups tasks
Backup of complete directory structures
Start backup on demand or run automatically
Backup via FTP (opt. with proxy and FTPS (FTP over SSL))
Backup options:
Into single files [...]
Into Zip files [...]
Include or exclude selected sub directories
Filter settings for filenames (opt. regular expressions), file attributes file age and file size
Selection of file types
Opt- encryption using AES (Zip-kompatible)
Adjustable time gap for timestamp comparison
Running of external programs or scripts before and after backup [...]
Wizard on using Windows scheduled Tasks for backups
Extra tool PbPlaner to create and configure alternating backups using Windows Scheduled Tasks
Comprehensive command line options to automate actions e.g. using the Windows task scheduler [...]
Internal restore function of saved files [...]
Synchronise backup directories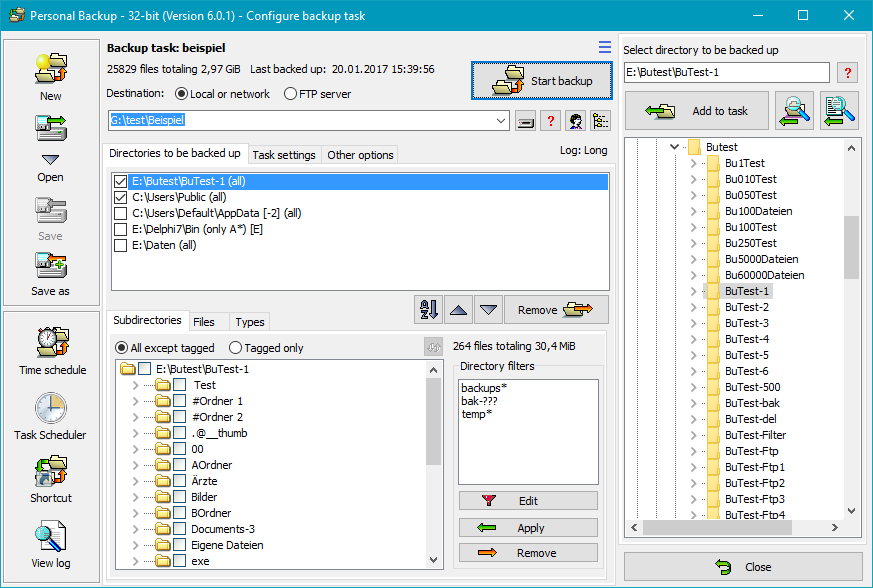 Homepage:
http://personal-backup.rathlev-home.de/index-e.html
Download
Update as Zip file
.
Navigation on the site is a little awkward, but you'll find it.
The FAQs claim it's portable:
It is possible to configure Personal Backup in a way that it can be started from an USB stick without leaving marks on the host PC (Vers. 4.1.3.2 and newer). Copy all files from the program directory (usually C:\Programme\Personal Backup 4) or the downloadable Zip file to a directory on the USB stick (e.g. K:\PersBack). Use the command line options /ini:[IniFile] and /taskdir:[Directory]. The options set the program to use an ini file and a task directory on the USB stick.

Then create a batch file in the root directory of the USB stick using a texteditor (e.g. startpb.cmd) with the following lines:
@echo off
echo Start Personal Backup from USB-Stick
start PersBack\PersBackup.exe /i:%%progpath%%\pb.ini /t:%%progpath%%\

Start the program from USB stick using this batch command and configure your backup task.
There is a comprehensive online help section.