Posts: 2649
Joined: Sat Feb 04, 2006 9:19 am
Contact:
---
PureText is at version 4.0 (2015-11-15):
There is now an option to remove registry entries.
•Pasting now happens when you press your hot-key instead of releasing it. You can also press-and-hold your hot-key to perform multiple pastes.
•Added hot-key information to PureText's option dialog, which provides details about known hot-keys and possible conflicts when picking a specific hot-key.
•Fixed issue where PureText would sometimes stop working after pressing Win+L or Ctrl+Alt+Delete.
•More hot-key combinations are supported and a few problematic hot-keys have been blocked.
•PureText will now warn you if you are running PureText.exe from a temporary folder or if PureText.exe is marked as 'blocked'. These can happen when PureText.exe is ran directly from the zip file that is downloaded from the internet.
•PureText.exe is now digitally signed with my publisher certificate, which makes Windows and some virus protection programs happier.
•Fixed some pasting issues with Firefox and Thunderbird on Windows XP.
•Added /N startup option to start with no icon.
•Added /U startup option to uninstall registry entries.
https://www.stevemiller.net/puretext/
---
Just adding a summary and screenshot to this thread:
synopsis wrote:Have you ever copied some text from a web page, a word document, help, etc., and wanted to paste it as simple text into another application without getting all the formatting from the original source? PureText makes this simple. Just copy/cut whatever you want to the clipboard, click on the PureText tray icon, and then paste to any application. Better yet, you can configure a hot-key to convert and paste the text for you. The pasted text will be pure and free from all formatting.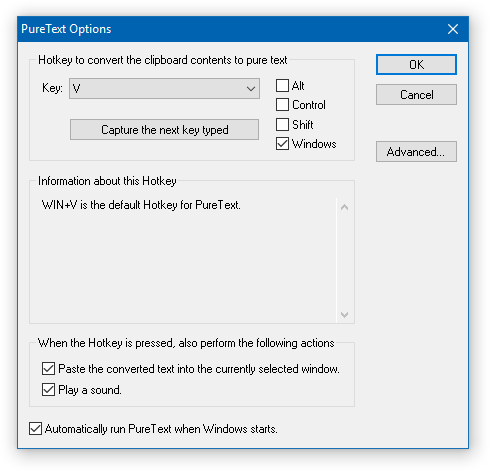 ---
@Mod

Please move to "Portable Freeware Submission".

Thanks.
---
Posts: 28
Joined: Fri Feb 12, 2016 7:27 am
•Added /U startup option to uninstall registry entries.
Man did i understand that wrong and wasted a lot of time. PureText doesn't start with /U, it just deletes the registry entries
---