[
Mod note: the present is the official forum topic for
WinAuth
;
https://www.portablefreeware.com/?id=2856
]
With all the data breaches, exploits and brute force attacks of late, one can never be too careful with online credentials. If consistently used,
two-factor authentication
(or 2FA for shorth) can prove a powerful mitigating factor.
Enter
WinAuth
(
https://winauth.github.io/winauth/
), a FLOSS and portable single executable client for standard online services.
WinAuth supports any service or website that uses the Google Authenticator, Microsoft Authenticator or an RFC 6283 based authenticator. It also supports games such as Battle.Net (World of Warcraft, Hearthstone, Diablo III), GuildWars 2, Glyph, WildStar, Runescape, SWTOR and Steam. WinAuth requires no installation and is a single executable file, and so can be run from a USB drive or stored and run from cloud files services such as DropBox, Google Drive, or SkyDrive.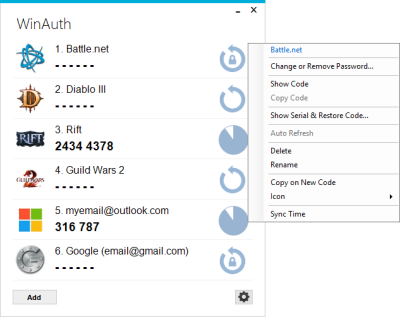 WinAuth
last stable release (currently v3.5.1, released 2017-10-24) can be downloaded from
https://github.com/winauth/winauth/releases
.