[Moderator notes: this thread was:
Formerly for a program called Ding-Press, but the user removed all his posts.

Split from the 7zip command line backup thread.

[/note]
---
@Ding-A-Ling
Thank you for the nifty little tool. I tested
Ding-Press
and it worked fine.
Screen
: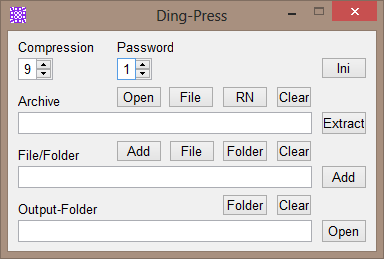 Observations
:
I tried to add more passwords using the pattern from the INI file but it turned out that the program is set to use only passwords from 0 to 9.
The program is set to stay on top.
The program is tiny (923 KB executable) and light (it uses about 16 MB of RAM).
The program has tray icon but cannot be minimized to tray only (not shown in taskbar).
Enhancements
:
Option to "minimize to tray" - for example: parameter in INI file;
If "minimize to tray" is implemented - new tray command above "Script Paused" and "Exit" - "Open";
Option to "save window state on exit" (position on desktop), for example; parameter in INI file;
Option to use more passwords than 0-9 - program checks the INI file for the number of added passwords;
Version number in title bar;
Overall,
Ding-Press
is a very promising tool. Thanks for sharing it,
Ding-A-Ling
.