The Classic Browser
(
http://theclassictools.com/
) appears to be a highly user and privacy driven manifestation of
Chromium
offered in 32 and 64-bit portable packages.
A temporary cache is kept at
'%APPDATA%\The Classic Browser
' while it runs but is allegedly wiped out upon termination. I'm not a
Chromium
user so I didn't test any of it but I haven't seen it mentioned around TPFC so here goes...
author of http://theclassictools.com/

wrote:

The Classic

[

Browser

]'s dynamic cache-less nature and a host of other settings, ensure your 100% privacy, which you can easily verify with a 3rd party online privacy testing tool like 'Panopticlick' or 'Aloodo'. You'll find that the Classic is the only browser on the market that attains perfect privacy protection, straight out of the box! [...]

The Classic Browser

uses the

Chromium

engine strictly as a renderer-only and that's where the similarities with

Chrome

end. Our entire interface and all number-crunching routines are custom written from the ground up [...]

Chromium

is only called to pass a URL to it to display a website, in fact we have fine-tuned the highly configurable

Chromium

engine not only to support the latest web technologies but to also not waste precious time writing to your hard disk and thus the absence of Internet junk files.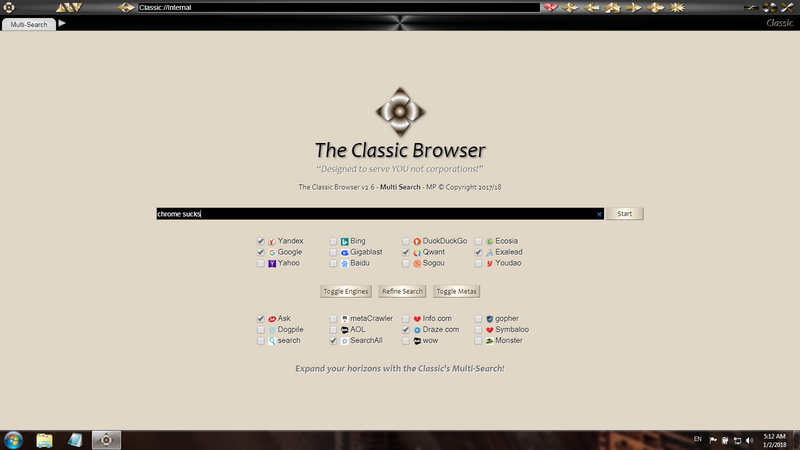 A SoftPedia page and review can be found at
http://www.softpedia.com/get/Internet/B ... wser.shtml
.
The Classic Browser
latest 32 or 64-bit portable release (currently
v3.4
) can be downloaded from
http://theclassictools.com/
.