I finally found it! A clipboard to print utility so I can print from programs that don't have print capabilities, like my Mempad (
https://portablefreeware.com/?id=889
), whose only flaw, imo, was a lack of print capability.
Clipboard to Print can be found here, totally freeware:
Website:
https://www.netadmintools.com/art346.html
Screenshot: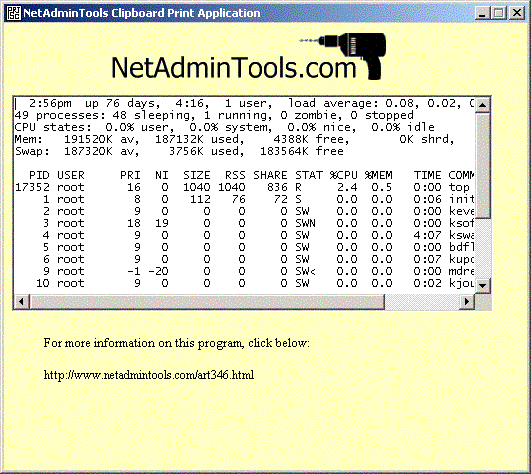 Download:
https://netadmintools.com/files/clip.exe
Installation:
Unzip the files using the self-extracting executable. Then use universal extractor to extract the files from clip.cab. Setup.exe creates Start menu files and a few registry keys.
Uses VB6 dlls (included), but the other files seem to be standard WinXP dlls, so they should not have to be registered with regsvr32.
Delete setup.exe and st6unst.exe
I used Sandboxie (hope I am accurate in this) to determine that if the setup.exe is not run, it creates no file or registry settings.
Note: This utility uses the Lucida Console font if found to guarantee monospacing.
C.