The ultimate utility for any serious USB user -- but BEWARE: here be dragons!
@ http://www.softpedia.com/get/System/Boot-Manager-Disk/Bootice.shtml, Mihaela Citea

wrote:Bootice is a portable utility that allows you to modify, backup and restore the MBR (Master Boot Record) and the PBR (Partition Boot Record) of local or removable drives. MBR refers to the first sector of a partitioned drive, while PBR implies the part that allows booting.

The application is intended for professional users, yet provides a tab-based interface, which makes it easy to handle even by the less experienced. With this tool, you can easily change your MBR / PBR sections to another type. It supports multiple different boot records, ranging from Grub4DOS, UltralSO or Plop Boot Manager to BOOTMGR or SYSLinux.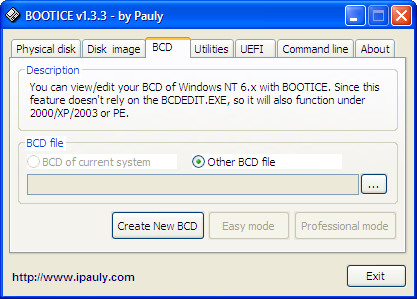 For an overview of the power of Bootice look, for example, at
http://www.rmprepusb.com/tutorials/multipartufd
.
The homepage, a mostly Chinese forum, is at
http://www.ipauly.com/
.
The homepage link in the program interface appears to be hardcoded to launch MS Internet Explorer, which is always a nuisance when you have a different browser preconfigured as default.
You can always download the most recent version at
http://bootice.narod.ru/
.