Amp WinOff
Posted: Mon Oct 06, 2014 2:13 am
AMP WinOFF is an utility for scheduling the shutdown of Windows computers, with several shutdown conditions and fully configurable. Some of its features are:

Several modes/conditions for shutdown planification (sic):
At certain date/time (e.g. 12:00 AM).
After a period of time (e.g. 1 hour and 15 minutes).
When there isn't user activity (i.e. no mouse/keyboard input).
When there isn't CPU activity.
When there isn't network activity.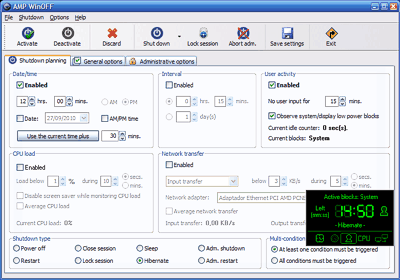 Developer site:
http://www.ampsoft.net/utilities/WinOFF.php
Download:
http://www.softpedia.com/get/PORTABLE-S ... nOFF.shtml
I've used this app for years. It's been around forever. I can't believe this wasn't brought up before (I did a search and didn't find anything in the database or the forums). Anyway, I didn't test it for true portability. Maybe someone here wants to do that.