Wow, guys. Long time, eh?
Man, I logged in and see that last active: Wed Feb 12, 2014.
You guys probably forgot allll about me.
Anyways.
I figured I'd release my first (real) program made with Lazarus/FreePascal. So here goes:
(Yeah, there's not much to it
)
Hate distracting FaceCams on Videos?
Annoyed at having something bouncing in the corner while you are trying to watch something else?
Well now you can do something about it!
Just run 'FaceCamCover.exe' and apply directly to FaceCams by clicking and dragging the cover with your mouse. It's that easy!
...more in the ReadMe
Tested on WinXP and Win10.
HowTo use:
Webfork made a nice animation here in the thread:
viewtopic.php?f=4&t=24307#p92940
and while googling, I ran across this detailed post by Shobhit Kumar:
http://www.ilovefreesoftware.com/22/vid ... video.html
Both are better then my docs by far.
Download
Screen Shot
(As requested)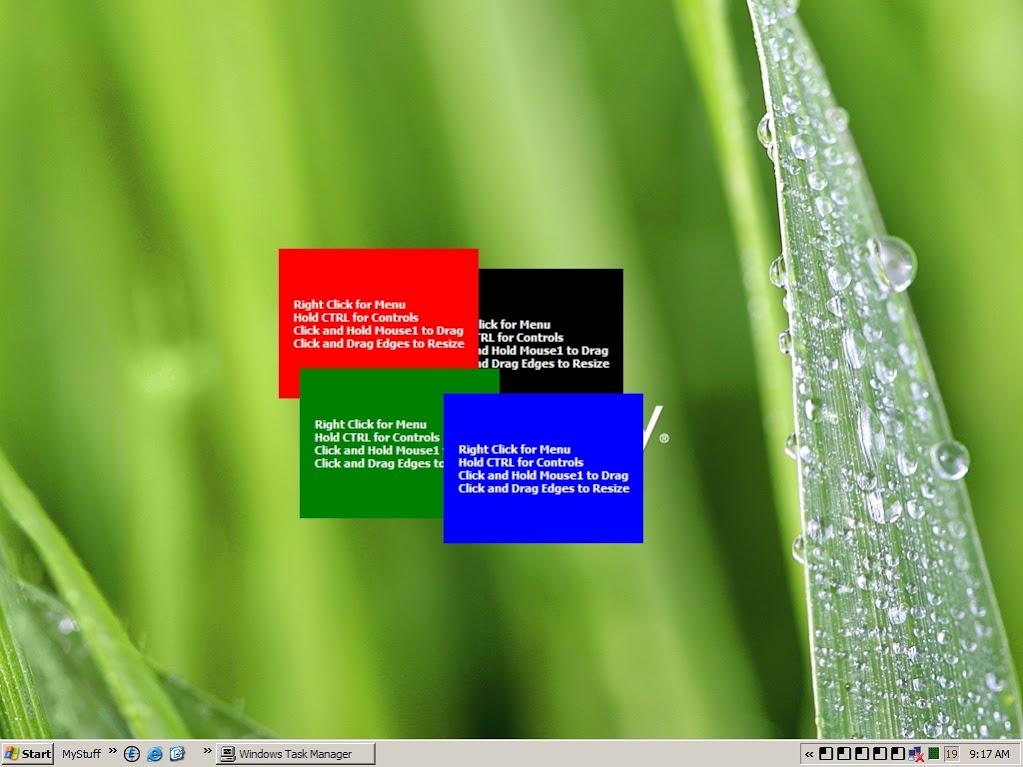 Any issues, please let me know, and I'll get to them as soon as I can.
(Though right now, I only have internet access once a week, so I may by a little slow.)
File: FaceCamCover.exe
Size: 1755648 bytes
MD5: 9CBFF5611C76B40B0A60B54A22F3C172
SHA1: C950785502E75AF78FCC1BD201F1B8F6B2D97620
File: FaceCamCover_v1.0.4.zip
Size: 697349 bytes
MD5: A0DEF6D0827A201BCF170E5FF3EBC687
SHA1: 93FC6B4226EFB3D62FECD43C8571C9BF6B1992D3
So that should be it, unless someone has an issue with it (that I can fix
).
...and this time, I mean it!
Change log:
Release: V1.0.4 - 11/17/2018
Fixed the URL hover for the Pascal Colors link. ... *Derp* >.>
Fixed FaceCam Cover not saving on PC shutdown.
So now it triggers twice, but will only write to disk once if there are size&position changes detected.
Note: This was not my fault, imo, it's a bug in either Lazarus or the FPC.
(OnCloseQuery doesn't trigger correctly when my WinXP machine shuts down.)
...And I Most Certianly Did Not notice 3-4months later that the Version Number was wrong in the 'About' section and re-upload a fixed Version. >.>
Made it so if the 'FaceCamCover_Options.ini' exist, 'Create INI' will be 'Reload INI' instead, which loads the INI file the same way as running FaceCamCover.exe.
So the following settings can be changed without restarting FaceCam Cover:
ShowClock
Clock_Font_Color
Main_Form_Color
Secondary_Form_Color
Save_Size_and_Position*
Load_Size_and_Position
Top
Left
Height
Width
(*If Enabled with '1', when clicking 'Reload INI' this will LOAD the Saved Top, Left, Height, and Width in the INI, not Save them.
If Disabled with '0' it will do nothing.)
Due to how the 'ALT-ESC' hook is implemented in the program, a FaceCamCover restart is required to change the option from Enabled or Disabled.
Release: v1.0.3 - 11/5/2018
Made changes to the way the program closes, it should now save the 'Save_Size_and_Position' settings when the Computer is turned off and FaceCam Cover is running.
Also made format changes to the ini file, this will NOT affect old ini files, they will work just fine. It's just a "fix" for the blank lines disappearing. ...And by 'fix' I mean I changed the blank lines to 'commented out' lines.
Now FaceCam Cover only saves changes to the ini file when there are changes to be saved.
Meaning it no longer writes to the ini if nothing changed. Not necessary, but everything helps with USB-Sticks and SSD drives.
Release: v1.0.2 - 10/24/2018
Added the ini option to disable the saving of 'Size and Position' but still load the last saved 'Size and Position'.
You MUST set 'Save_Size_and_Position=0' to Disable the Saving of 'Size and Position'.
In other words, you can use the 'Load_Size_and_Position=1' with 'Save_Size_and_Position=0' option to start FaceCam Cover, then change its size and close the program without worrying about it saving the new size.
To use it, just add 'Load_Size_and_Position=1' to the 'FaceCamCover_Options.ini' file.
(1 for enabled, 0 for disabled)
Release: v1.0.1 - 10/21/2018
Added URL button for Pascal Colors.
Fixed a minor bug I found when you have the 'About' box open and Hide or Close the program.
Random small bits in the ReadMe.
Release: v1.0.0 - 9/16/2018
No bugs/issues reported, so not much really changed other then text.
Changed the named of the .ini file from 'Options.ini' to 'FaceCamCover_Options.ini'.
Also added URL buttons in the About section.
Edit: File deleted from post so all the downloads I don't get wont break the website.