Apparently, after extolling the virtues of Linux only
Autotrash
(
viewtopic.php?t=3509
&
viewtopic.php?t=21875
), I managed to totally miss
RecycleBinEx
, which is precisely what the doctor ordered...
So here it is for general appreciation -- I'm posting to "
Discussion
" on account of its peculiar features.
author of http://www.fcleaner.com/recyclebinex

wrote:

RecycleBinEx

is a powerful and easy to use recycle bin manager for Windows Operating System. It extends and enhances the Windows recycle bin, and let you use many extra features in it. With

RecycleBinEx

, you can sort the items in recycle bin; group them according to the deleted time, the logical disk, etc. You can select and remove the deleted items which were deleted one day ago, two days ago, 7 days ago, ..., 3 months ago by just one click. Or remove the deleted items of such as C disk only by one click, too.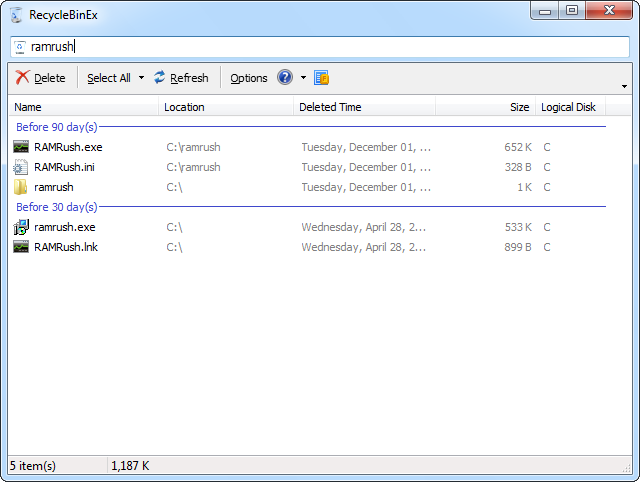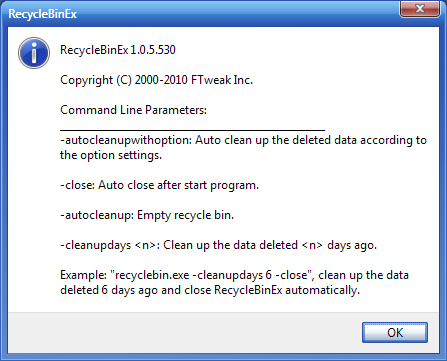 RecycleBinEx
is made by the same author of
FCleaner Portable
(
viewtopic.php?t=4331
); it can be easily (
Uni
)extracted and if you disable all "
Options
" in the respective dialog, it appears to be portable -- but not stealth, as it still creates '
HKCU\Software\FTweak
'.
In that case, how does it work portably, you may ask? As
RecycleBinEx
accepts command line parameters, it's as easy as typing the following in a plain text file and change the extension to batch ('.BAT').
Code: Select all
@RecycleBinEx -cleanupdays 7 -close
RecycleBinEx
initial (and latest) release (currently v1.0.5.530) can be downloaded from
http://www.fcleaner.com/recyclebinex
.