Here's the gist of the conundrum I'm facing with a fresh Windows 10 installation on a desktop PC.
I installed and configured Windows 10 normally and after booting everything appeared to be working normally, until... I got a message about new updates installed and a needing a reboot. Which I did.
The updating process proceeded, with a percentage being displayed in the lock-screen both before and after shutdown.
Only it reached 98% and then turned into a message saying "
We couldn't complete the updates. Undoing changes
..." and proceeded to roll everything back, requiring extra waiting time at the lock-screen and yet another couple of reboots.
This has been going on for weeks now and, whenever I need to reboot, even if I choose the option not to update, it will still proceed with the updating, which will then fail... next day, rinse and repeat.
From update history I can identify the culprit as the latest "quality"(!) cumulative update: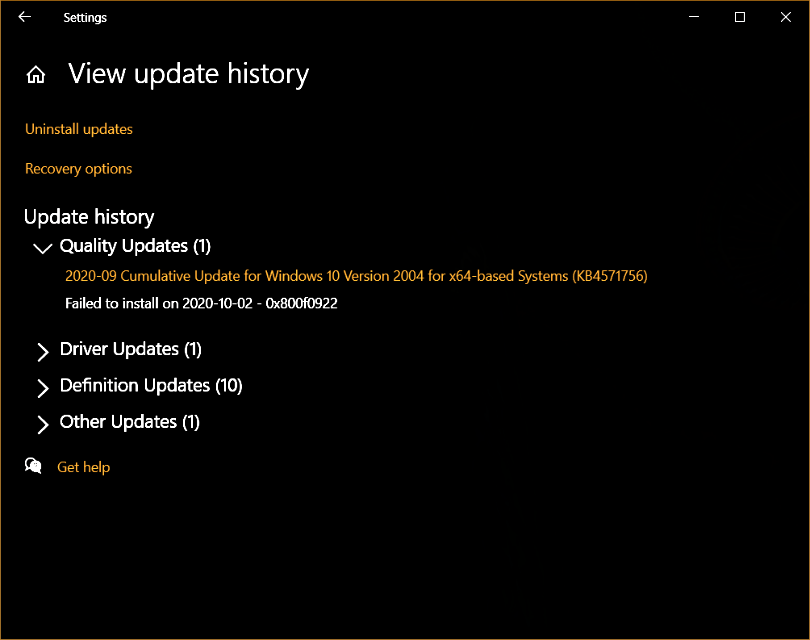 After some research, I concluded that I'm not the only one facing the same issue:
But all the pointed solutions, including installing the
kb4571756
update manually or using Microsoft's own
MediaCreationTool2004
to do it for me have failed, as have some other solutions gathered elsewhere, namely:
Running DISM with appropriate parameters through the CLI;
Renaming the large 'SoftwareDistribution' folder (present inside '%WINDIR%').
In despair, I decided to post this here to sum up the situation, collect any clues that may provide a fix and serve as beacon for any other users facing the same issues.
At the end of the day, all I'm left here is this weary feeling I was right all along about being wary of putting Microsoft in charge of my computer...