Quote:
Switch Off is a lightweight easy-to-use tray-based system utility that could automatically shutdown, suspend or hibernate your system.
http://www.airytec.com/en/switch-off/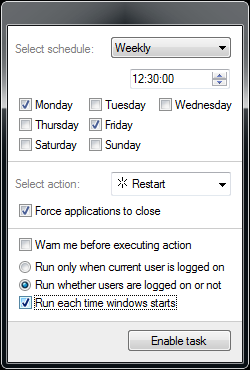 I know there was an older version rejected because it wrote to registry, but now there's a portable 'lite' version. Download is only
68KB!
I believe the only missing feature is ability to remotely shutdown.
Supported OS:
Windows ( 2000 / XP / 2003 / Vista / 2008 / 2008 R2 / 7 )
Native 32-bit (x86) + 64-bit (x64) OS support