Description
:
This utility is able to handle cookies and to delete them better than other utilities. (try to run a privacy cleaner and then run IECV...!)
It allows to:
Find a cookie in the list by specifying the name of the Web site.
Select and delete the unwanted cookies.
Save the cookies to a readable text file.
Copy cookie information into the clipboard.
Automatically refresh the cookies list.
Display the cookies of other users and from other computers.
Open the IECookiesView utility directly from Internet Explorer toolbar.
Change the content of a cookie.
Export your cookies to Netscape/Mozilla cookies file.
Block sites from using cookies through the cookies blocker of IE 6.0.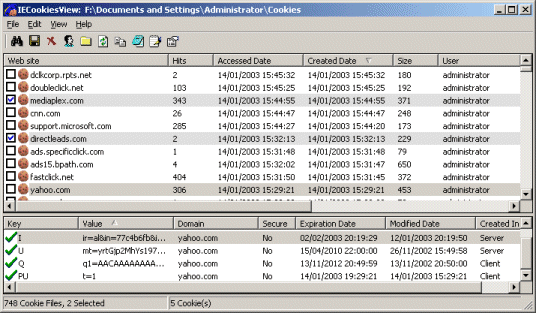 Standalone executable
: 55 kb
System
: Win 9x, 2000, XP (IE 4.0-6.0)
License
: Freeware
site
:
http://www.nirsoft.net/utils/internet_e ... _view.html
How to run
:
Download
http://www.nirsoft.net/utils/iecv.zip
, unzip in a folder of your choice, run iecv.exe