MorphXT Homepage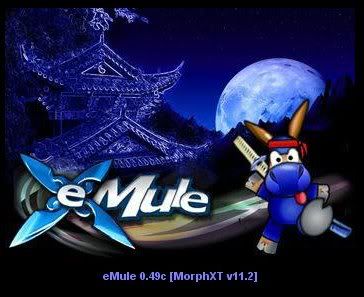 Download MorphXT v11.2-Installer
Download MorphXT (JPE Launcher)
Change Log
eMule is already practically portable.
This launcher accomplishes one thing..preserving your registry,
tho depending on your install options it can be minimal on its own.
If you want to sandbox/redirect your filesystem for true portability
then edit the "emule_jauntePE.ini" accordingly.
However,If you have the default temp and Incoming folders set (with the Program files)
then redirections isnt really necessary.
If you move the Program's folder you will get an error saying that it cant find the Temp/Incoming folders
but the default folders are just remapped in the program's ini file.
The actual folders and their contents remain intact.
Make sure you read all the help files on portforwarding and routers and firewall if you have trouble getting a high ID.
MorphXT was used to make the launcher but any exe named emule.exe will do,no matter what version/mod you prefer.
Edit:
Trubluerover's uber IPFilter is included for security
[use eMule search to update it:))
as well as a server list.
Peernets Server Support and resources
To auto update the list at start up add this url to the "server update url box" in options tab
http://peerates.net/servers.php