Yea, I'm digging this program; I'm constantly adding/removing items to/from the SendTo menu/folder
I noticed when an app is added, it's folder path is not added to the 'Start in:' field, as can be seen in the 'Properties' page.
Some apps may require initialization from their own path.
:: Request/Suggestion
I would really like an option to (re)name the shortcut if needed, maybe a pop-up dialog offering to accept or change shortcut name.
This would also be helpful in appending a CL Switch
How about a 'hidden' feature; e.g., if sending a program that's already in SendTo, rather than re-add it, just remove it, as a quick way to add/remove shortcuts; kind a like a 'switch' or 'toggle' I guess.
I didn't even know you could send multiple files/folders at once until I saw it in the code and then tried it.
This is a very welcome procedure.
The readme was/is a bit ambiguous in this regard; i.e., '...easily add applications and folders...', 'Files can be dropped', etc..
Perhaps it should read '
Multiple
files can be dropped', '...add
multiple
apps and folders...', etc...
I wasn't too keen on the icon, so I created a generic one and replaced it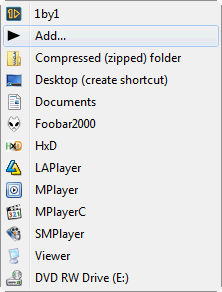 Anyway, Thanks dmg, Mittere is a nifty/useful little tool and has found a permanent home in my toolbox.
Looking forward to the next version; hopefully with the mods/ideas Donald and I mentioned/suggested.
~Ruby